Do you have to choose between a dental bridge or implant? This article will answer the following questions:
What is a dental implant?
What is a dental bridge?
Dental bridge or implant?
What are the differences, the advantages and disadvantages?
Implant or bridge? Which one is the better solution?
Are you thinking about getting a dental bridge or implant, but do not know which solution would be the best in your case? Both systems can replace a missing tooth, but are completely different methods. However, it is important to fill a tooth gap with either a dental bridge or implant.
What is a dental implant?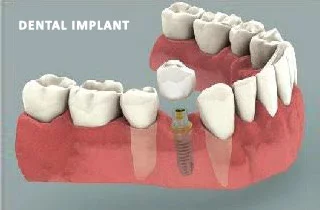 A dental implant is an artificial tooth root made of a biomaterial, which is placed in the gap left by a lost tooth, or by a tooth that for some reason had to be removed. The dental implant will support the carefully planned tooth replacement. The material of dental implants is usually pure, unalloyed titanium. Even if you should have an allergy to certain metals, there is no reason for concerns. The human body accepts titanium completely.
What is a dental bridge?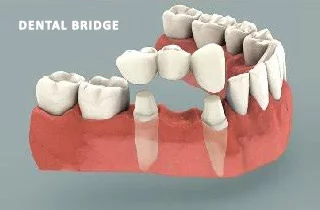 A dental bridge consists of two or more connected crowns. One or two of them literally bridge a gap or also two gaps. The crowns at the two ends of a bridge are supported by natural teeth or dental implants. Typically, a dental bridge is permanently screwed in or cemented. If telescopic crowns are used as anchors, the dental bridge can also be removable.
Dental bridge or implant?
Just like dental implants, dental bridges serve as a replacement for missing teeth. When deciding for a replacement method, you have to consider several factors such as aesthetic and functional aspects. Both systems have advantages and disadvantages, which must be considered individually in each case. You should discuss the choice between dental bridge or implant with your treating physician.
What are the differences, the advantages and disadvantages?
A dental bridge is supported by the two teeth on its either side, while a dental implant is completely independent from the neighboring teeth. A dental implant also retains the jaw bone substance, which otherwise gradually lessens after tooth loss and in time does not provide enough support for an implantation later. This is important if you think about getting a dental bridge now, and an implant later.
The biggest advantage of a dental bridge compared to an implant is that the bridge treatment is complete within approximately 5 days. In contrast, a tooth replacement treatment using an implant requires multiple treatments. This process can take months, as the patient needs a healing period between the implantation and the crown placement.
Before making a decision, please consider the following:
Better oral hygiene: an implant relies on itself, while a dental bridge is supported by the neighboring teeth, which can have adverse consequences.
Stability and durability: both dental bridges and implants are stable, reliable structures providing a solution for replacing missing teeth. However, a dental bridge exerts pressure on the adjacent teeth. This reduces their lifespan with the applied strain over a longer period. A dental bridge can last 10-20 years, after which it has to be replaced. As a result, the supporting teeth are then so weak that they are no longer able to support a new dental bridge.
Differently from a dental bridge, dental implants are not necessarily noticable. They look like natural teeth. Dental implants give you a natural look, besides providing more comfort.
As you can see, there are many differences between a dental bridge and an implant. A dental bridge is a less drastic intervention, it can be realised faster and is financially advantageous. On the other hand, a dental implant is a better solution because it lasts longer, it does not involve any treatment on healthy teeth and it provides the better result aesthetically. You can decide for yourself between a dental bridge or implant by weighing the points mentioned.
Get a quote from our staff to find out whether a dental bridge or implant is more appropriate in your case.