Hungary and Hungarian dentistry has been leading the dental tourism top list for affordable dental treatment for many years now. More than 40 % of European dental tourists and about 20% of dental tourists from outside Europe choose Hungary. This choice, this trust are well-founded. Hungarian implantologists offer patients from all over the world highly qualified dentists and assistants. They guarantee world-class level implants and their prices are 60% less than in other countries.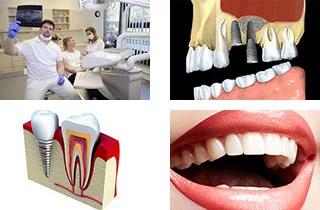 From this article you can learn the following:
Quality advantages of an affordable dental treatment in Hungary
Prices in Hungary and in Western Europe
Our chief surgeon
There are very good reasons why Hungary is the top country (both on European and on world level) providing affordable but excellent quality dental care to foreign patients. Hungary has always had an excellent level of education for dentists. Also, Hungary has a high number of dentist per capita and relatively low costs of living. Therefore dental tourists find a combination of low prices and high-level services here.
Quality advantages of an affordable dental treament in Hungary
Hungary's geographical position, Western European-style culture and high public safety all play a role in so many international patients choosing Budapest or other Hungarian cities for their affordable dental treatments. Patients coming to Hungary for their dental implants can expect a 60% lower price compared to what they would pay in a private dental practice in their home countries. What do you get in Hungary for this really convenient price? The following:
highly qualified dental personnel with decades of practice in dental tourism
warranty both on the surgery and the elements of your implant
excellent quality implants, superstructures and prostheses (crowns, bridges) from Swiss, German and Israeli manufacturers
quick and detailed treatment plan and quote for an affordable dental treatment
in many cases assistance to your dental trip to Hungary
Prices in Hungary and in Western Europe
Implants, superstructures and prostheses (crowns, bridges) can come both in standard and in super brand quality – you can still get them for a significantly lower price at Hungarian dental clinics. See the chart below for comparing prices. Hungarian costs contain the materials, the laboratory fees and the dentists' fees as well.
Cost of dental implants abroad

USA*

Hungary**

Swiss standard implant

USA* –

2662 $

Hungary** –

from 715 $
Swiss standard implant abutment

USA* –

484 $

Hungary** –

from 132 $
Sinuslift

USA* –

1137 $

Hungary** –

from 605 $
Minilift

USA* –

750 $

Hungary** –

from 330 $
Long-term temporary denture

USA* –

780 $

Hungary** –

from 420 $
Metal-ceramic crown

USA* –

750 $

Hungary** –

from 209 $
Zirconia crown

USA* –

1260 $

Hungary** –

from 402 $
Two unit bridge, metal-ceramic crowns

USA* –

1500 $

Hungary** –

from 418 $
Two unit bridge, zirconia crowns

USA* –

2520 $

Hungary** –

from 804 $
*Source: 2016 National Dental Advisory Service, Comprehensive Fee Report
**Source: Average prices of the 3 clinics of BestDentalSolutions
**The prices are indicative, the treatment plan and quote is always prepared in Euro. Regardless, the payment of the treatments is in another currency possible (current daily Eur exchange rate).
I want to get a quote

So if you decide to pay less than 50% for your dental implant, we recommend you to contact Hungarian dental clinics for a quote. Among our clinics catering for international patients Vitalcenter and Sopron Dental will welcome you with friendly prices and free additional services.
We offer several free services to help our international patients to organise their trip and their stay in Budapest. As soon as we have agreed on a date for your implant surgery, our personal dental assistant will help you to find and book the most convenient air or train tickets and will send you the list of our partner hotels near the clinic. Upon your arrival in Hungary one of our drivers will welcome you to take you to your hotel or your clinic. Of course at the end of your stay our driver will take you back to the airport or railway station – all this free of charge.
Our clinics guarantee a warranty of 10 years on the implants and of 5 years on surgeries.
Our chief surgeon
Our medical teams are headed and coordinated by Dr. György Peter chief surgeon. Dr. György Peter is a general dentist and an oral surgeon. He has also specialised in implantology and in aesthetic dentistry. Before founding his own clinics he worked for different dental clinics for decades Besides his daily workload as a dentist, he regularly attends training courses, like the last one about new techniques in implantology. He is also part of a team cooperating on technological innovations. It is particularly important for him to build and maintain relationships based on trust.