Most people want to have teeth that are not only healthy, but also look beautiful and aesthetic. Alas, only a few of us are fortunate to have inherently good dental aesthetics.
The main points of our article are the following: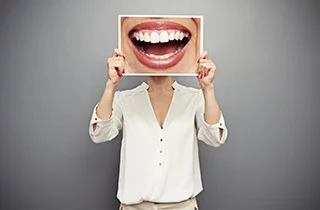 What are the main factors of dental aesthetics?
Tooth colour, tooth shape, tooth position, and the general appearance of the gums. For example in our culture people set whiter teeth as a priority, as it increases the attractiveness of a person.
There are various aesthetic dentistry options to improve the dental aesthetics of a person. These include crowns, implants, veneers or teeth whitening.
Below you can read a list of aesthetic dentistry methods for improving dental aesthetic:
Dental crown
An artificial tooth crown corresponds to a natural tooth crown.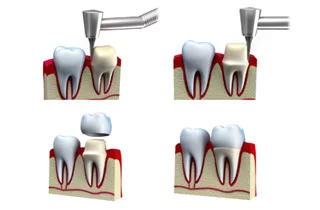 A dental crown is a form of tooth replacement, which is used after an implantation or just on top of the natural dental roots.
There are different reasons why the natural tooth crown must be replaced. People can lose a tooth as a result of caries or just in a common accident.
There are different types of dental crowns, made of various materials, like ceramic or metal-ceramic. The choice of the material depends on the patient's specific conditions. A dental crown plays a very important role in the aesthetics.
Dental bridge
A dental bridge is another kind of dental replacement which closes a gap between two teeth. Either the natural or artificial crowns can function as the so-called bridge pillars, depending on the patient's specific conditions.
Crowns are also suitable for additional aesthetic functions, for example, how well they can cover discoloured parts. Crowns can be made of different materials, for example, metal, porcelain, resin, or ceramic.
Read more about dental bridge.
Veneers
Veneers is a very popular method in aesthetic dentistry to get whiter teeth and to reshape the teeth. The application veneers is a simple, efficient and long-lasting method.
Veneers are porcelain shells that are at most only few millimeters thick and are placed with a special glue to improve the dental aesthetics.
The shells are suitable for correcting small dimensional differences, unevenness, cracks, as well as for closing gaps between teeth.
It is excellent for covering worn tooth enamel, thus covering discolourations caused by coffee, tea, and red wine.
The main material for making dentures is pressed ceramic
Read more about veneers.
Teeth whitening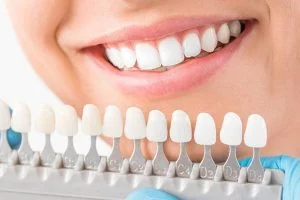 Teeth whitening is the method os whitening discoloured teeth in aesthetic dentistry. There are different reasons for tooth discoloration: the accretion of substances such as nicotine (from cigarettes), caffeine (from coffee) and tannin (from red wine) in the enamel.
These substances make the naturally white teeth darker. Teeth whitening can reduce the discolorations or make them completely disappear. The final result depends on which teeth whitening method is used.
Read more about teeth whitening.
Tooth jewellery
After using a whitening method, many teenagers and also adult patients get tooth jewellery. There are two types of dental jewellery, namely stones of zirconia and certain decorations of metal with a white gold or gold colour. If you want long lasting tooth jewellery, you should get it placed by a professional with specific fastening materials. Tooth jewellery prices of the zirconia stones vary between 32 and 50 £.
Other aesthetic dental treatments
In addition to the major aesthetic treatments listed in this article, a number of other treatments also achieve aesthetic goals. In our concluding chapter, we list these briefly.
Removing tartar.
Tartar is a calcified plaque that is so hard that it can no longer be removed by home methods. The removal of tartar is primarily a medical issue, as the deposits adhering to the teeth are the hotbeds of further diseases and inflammations. However, the undeniable aesthetic benefits of the treatment should not be forgotten either. This is especially true for the so-called subcutaneous tartar, which is dark brown or black in colour.
Designing cosmetic teeth
Tooth shaping is also called enamel shaping. It is important to choose a professional for this treatment, as unjustified damage to the enamel will make the teeth unprotected. With smaller formatting, however, surprisingly spectacular results can be achieved in terms of the appearance of the teeth.
Cosmetic orthodontic treatment
In today's world, performing orthodontic treatment is extremely common not only in childhood but also in adulthood.
Orthodontic treatments are used to treat crooked teeth.
Gingival surgery
Not only the appearance of the teeth but also the appearance of the gums is important. These aesthetic problems are handled by the so-called gingival surgery. It can correct defects in the contours of the gums and is also suitable for treating minor gingival retraction.
We can see how many options there are in the field of cosmetic treatments. Even if you are lucky enough to have healthy teeth, think about these great options that can give your dentures an even brighter look.