Dentures can be life-changing for people. Are you having problems with chewing and biting? You don't even dare to smile anymore? Do you have gaps you are ashamed of? All these issues can be solved by the application of a denture.
The main points of our article are the following: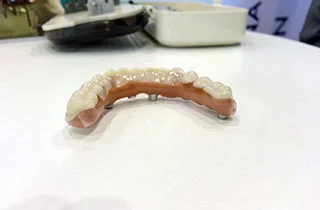 What is a denture?
The loss of teeth can occur due to a wide range of reasons. Such reasons are caries, neglected hygiene or any type of ordinary accidents. Luckily, nowadays there is a solution even for this problem. The most optimal solution for this issue is the application of dentures. With the help of a denture, problematic or missing teeth can be easily replaced.It is usually advisable to choose a denture in the case of complete or extensive tooth loss when there is no other solution, such as implantation.
Different types of dentures
It is important to know that there are several types of dentures.One of the main differences is that a prosthesis can be fixed (permanent) or removable (temporary). There are also intermediate solutions.For example there are the so-called telescopic dentures, which function as a combination of non-removable and removable dentures.A telescopic denture represents a combination of both non-removable and removable dentures, since it includes both types in its structure. Telescopic dentures consist of removable denture and non-removable crowns, so called telescopic crowns. These telescopic crowns are divided into two groups, the inner and outer crowns. As the denture is inserted, the inner and outer crowns slip into each other. The friction between inner and outer crowns ensures a secure halt.
The denture can be temporary or permanent. Temporary dentures are prepared when the patient wants an "immediate" solution and cannot wait for the final prosthesis to be completed. It is important to emphasize that a temporary prosthesis cannot be a perfect and final solution.
We must also differentiate between complete dentures and partial dentures, based on the needs of the patient. If the patient has some teeth left, the right solution is a partial denture. Of course, if there are no remaining teeth at all, the patient needs a complete denture.
Differences between upper and lower jaw dentures
Indeed, there are large differences between upper and lower jaw dentures. Since the upper jaw denture covers the whole palate, it obtains a better halt.During the planning and making of a denture, it is worth striving for complex solutions: to achieve the perfect result, or to plan the rehabilitation of the lower and upper jaw at the same time.
Material of a denture
As there are different types of dentures, there are different materials used for them. Complete dentures consist of two main materials: a pink synthetic material and matching artificial teeth, or rarely even ceramic teeth. The main material for dentures is a special plastic that must be kept damp. This is possible in the mouth, but removable dentures must be typically stored in a special cleaning fluid after removal.
Partial dentures are fixed on a metal framework; the teeth consist of metal ceramics as well.
Prices of different dentures
The type of a denture and the material make up the price of a denture. Full dentures on a metal plate are available from 335 £ per jaw. It is important to note that if they are supported by implants, the costs increase. Meanwhile, partial dentures that are anchored to existing teeth, cost from 418 £.
What to pay attention to when using a denture?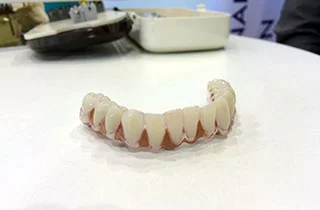 If the patient receives a denture, he should first be taught how to use and clean the prosthesis properly. It is not easy at first; it takes a lot of patience and attention.
Patients must first get used to having "foreign matter" in their mouths. The body and the human psyche are perfectly adaptable to some states of deficiency. It takes time for the body to get used to having the mouth filled with "teeth" again.
Likewise, it takes patience to "re-learn" chewing. This is especially true in cases where the teeth have recently been removed and a temporary prosthesis is placed in the mouth. Rough impacts can strain, rub, and even injure the gums; therefore, extreme caution is essential. In this case, it is worth not to start chewing with a hard apple, we need to get our body used to the change with softer, easy-to-chew food.
Dental care also requires attention: the specialist will recommend special tools for fixing and cleaning.
Damage to a denture
When it comes to the usage of dentures, one has to be careful, since removable dentures especially can easily be damaged. In such cases, either the repair of the denture is required or in rather difficult cases the prosthesis needs to be completely replaced.
Dentures can be life-changing for people. Are you having problems with chewing and biting? You don't even dare to smile anymore? Do you have gaps you are ashamed of? All these issues can be solved by the application of a denture.
Of course, it needs to be determined which type of denture is the most appropriate for you, so that it fits your needs.
It would be time to forget the jokes about Grandma and Grandpa's missing dentures. Today, prostheses are not just a sign of disability for the elderly; they are the subject of ridicule. A high-quality, well-made prosthesis is not only a new opportunity to help with proper nutrition but also opens up new gates for regaining clear speech and proper appearance and aesthetics of the face after a large-scale tooth loss.