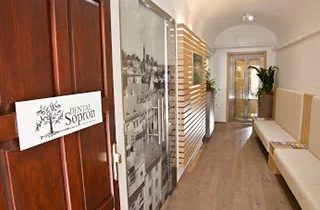 We would like to introduce one of our dental clinics with honor, by devoting entire blog post to them. They deserve it and so does Dr. med. dent. György Peter, the professional dental abroad. And do you know why? Because it is simply one of the best dental clinics in this field. The best dental abroad.
The dental clinic in Hungary
Please, ladies and gentlemen, stand in ovation, herewith is the Dental Sopron dental abroad on the red carpet. Let me give you some interesting facts about this dental clinic and why it deserves an award from BestDentalSolutions. Its chief physician implants not only for his two own private dental clinics, but also for many other hospitals, which already represents great professionalism alone in itself. His clinics are located in beautiful Budapest and Sopron, which lies on the border to Austria. Dr. med. dent. György Peter is the dental abroad. The dental implant clinic abroad  for you.
Dental abroad – background of professionalism
Only highly qualified dentists and implantologists work in Dental Sopron in a friendly atmosphere, spread over a total of 4 treatment rooms. Here, you get a dental service of the professional type, together with first-class quality. All dental works are completed in a closely located dental laboratory with a excellently coordinated laboratory team. The dentists co-operate and attach the greatest importance to precision.
A soothing location
If you choose this clinic, you can experience pure relaxation alongside your treatment.  The dental clinic is located in Sopron, a beautiful historical town on the border with Austria, near the feet of the Alps. The city is one of the oldest jewellery boxes of the country, where past and present merge. If you want to get away from it all for a few days besides having a dental treatment, this romantic town is more than perfect. Since some dental procedures are not the most pleasant, this can be a great advantage for you, right? As for the prices, you do not really have to worry; the treatments are to 70% lower than prices at home. What more could you want?
Dr. med. dent. György Peter gefinitely gets the 'Greatest Dental Abroad' badge from us.
You should definitely look at our other dental clinics; they are all equally at the highest level in quality and service. We set our bar very high and we do not lower it. It should be the same with you. We are your dental abroad.